Take the Economist....PLEASE!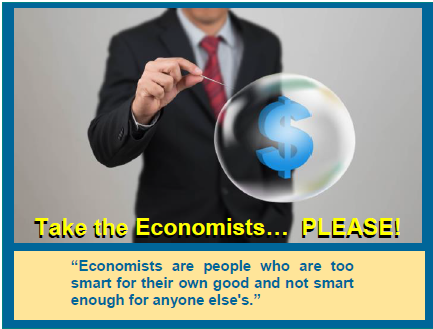 There are times when you have to wonder if the jokes about economists really aren't jokes. For example, this supposedly humorous observation might actually be true:
First Law of Economists: For every economist, there exists an equal and opposite economist.
Second Law of Economists: They're both wrong.
It's sort of unnerving how accurately these postulates describe two prevailing opinions regarding current economic conditions, and the proposed solutions.
Right now, there's the group of economists saying people need to spend more to get the economy going. Simultaneously, there's another group of economists declaring people need to save more or they won't be able to retire. Then, there's the ironic twist, where actions intended to stimulate spending appear to increase saving.
You Must Spend!
For almost as long as there have been economists, a standard response to an economic slowdown has been to lower interest rates. Theoretically, lower interest rates make borrowing more attractive and saving less attractive. Increased borrowing promotes consumption, which results in a growing economy.
But what happens when interest rates have been lowered to zero and people still aren't spending enough? If you're an economist, you stick with your model and go negative; in several countries today, banks and depositors incur fees for holding cash reserves. When the saving isn't just discouraged, but actually punished, banks will be forced to lend and people will be forced to spend. Right?
An August 8, 2016, Wall Street Journal article "Are Negative Rates Backfiring?" reports that efforts by European and Japanese economists to stimulate their sluggish economies with negative interest rates appear to be missing the mark. The results "have left some economists scratching their heads. Instead of opening their wallets, many consumers and businesses are squirreling away more money."
In fact, in economies where interest rates are either close to zero, or negative, borrowing and spending has remained depressed while the saving rate in several countries has increased.
Apparently, the economists are so committed to their models they can't comprehend the thought processes of non-economists. No matter how sophisticated the explanation, individuals and businesses remain wary of a counter-intuitive concept like negative interest rates. Encouraging spending by punishing saving is akin to urging people to buy more food by fining them for owning a refrigerator. The analogy is accurate, but doesn't make sense. And this cognitive dissonance leads to a distrust of the policy makers who are supposedly "managing" the economy, making consumers more cautious about spending, even if money is available.
Along with the disinclination to spend, negative interest rates mean those who are committed to saving for retirement have to save even more to meet their financial targets. Heike Hofmann, a 54-year-old German fruit stand owner, told the WSJ that negative interest rates seem like "madness," and "I now need to save more than before to have enough to retire." Lasse Bohman, a 63-year old newsstand worker from Stockholm, echoed those sentiments, saying negative interest rates make him want to save more for retirement rather than spend. "I am just going to keep on putting money in the bank," he said, or "put it under the mattress at home."
You Must Save!
On the other end of the befuddled-economist spectrum, there is an April 19, 2016, Atlantic article by Derek Thompson that asks "Why Don't Americans Save More?" Noting that American saving rates, across all classes, were quite high as recently as the 1980s, Thompson presents five reasons why Americans have stopped saving like they should. Among them:
- Government policies have made it easy not to save money, and...
- American culture has become uniquely addicted to conspicuous consumption.
Thompson elaborates on these conclusions, noting that retirement plans like 401(k)s are "leaky," i.e., it's too easy to withdraw money before retirement. He cites studies showing that for every $1 contributed to these plans, 40 cents flows out in the form of premature withdrawals. The flexibility allowed by these plans makes it too easy to spend savings, and sabotages retirement accumulation.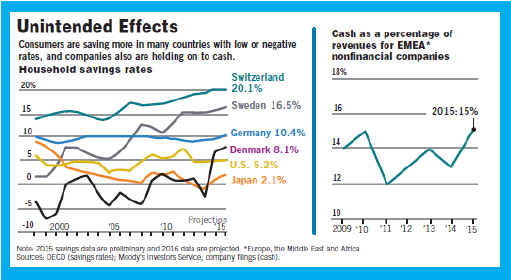 Thompson also suggests that the ethnic and cultural diversity in the US compels people to present themselves as wealthy - even if they have to go in debt - because wealth is a cross-cultural measure of status and acceptance. Thompson believes this is a partial explanation for another paradox that befuddles economists: "American middle-class households pay fewer taxes and save less money than those in many other rich countries."
But when Americans spend - conspicuously or otherwise - isn't that what economists want?
Let Us Take Over
"An economist is someone who doesn't know what he's talking about - and makes you feel it's your fault."
There's an obvious irony here: When economists want people to spend, they save. And when they want them to save, people spend. But wait, there's more: It's your fault their plans didn't work.
When economic theories misfire in the real world, the experts often attribute it to "user error." Or user ignorance. Regarding negative interest rates, University of Michigan economist Miles Kimball told the WSJ the problem is economists haven't properly communicated the concept. "They should say this is a normal tool of policy," he says, and then people wouldn't freak out. Because once an economist tells you everything is going to be okay, you can take it to the bank, right? (Bad economist pun. Sorry.)
But maybe it's not enough to improve the message. The populace may be so economically dense that Thompson believes it may be time to forgo explanation and persuasion. The economists need to take control:
"In a world obsessed with the wizardry of behavioral nudges, perhaps policymakers should consider putting away the magic wand and just do the paternalistic thing: Force people to save more, by expanding Social Security or by creating new forced savings policies. It should be harder for Americans to not have financial security when they retire.
Maybe the only way to make people richer in the long run is to take their money away from them."
It's a funny statement, in the way that "funny" can mean a bit odd or curious. But it doesn't sound like he's joking.
Who are Your Economists?
Jokes aside, how do you make sense of what often appears to be contradictory or indecipherable economic information? Are there better times to save or spend? Are there financial products or strategies for different circumstances? How do you know?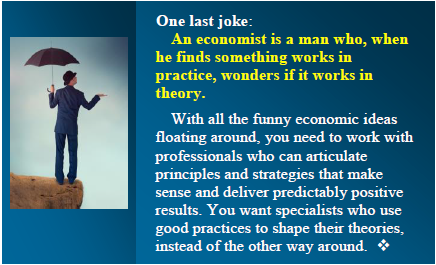 Registered Representative and Financial Advisor of Park Avenue Securities LLC (PAS). OSJ: 1767 Sentry Parkway West, Suite 200, Blue Bell, PA 19422, 267-468-0822. Securities products and advisory services offered through PAS, member FINRA, SIPC. Financial Representative of The Guardian Life Insurance Company of America® (Guardian), New York, NY. PAS is an indirect, wholly-owned subsidiary of Guardian. Comprehensive Wealth Strategies is not an affiliate or subsidiary of PAS or Guardian. 2016-27738 Exp. 8/18
This newsletter is prepared by an independent third party for distribution by your Representative(s). Material discussed is meant for general illustration and/or informational purposes only and it is not to be construed as tax, legal or investment advice. Although the information has been gathered from sources believed reliable, please note that individual situations can vary, therefore the information should be relied upon when coordinated with individual professional advice. Links to other sites are for your convenience in locating related information and services. The Representative(s) does not maintain these other sites and has no control over the organizations that maintain the sites or the information, products or services these organizations provide. The Representative(s) expressly disclaims any responsibility for the content, the accuracy of the information or the quality of products or services provided by the organizations that maintain these sites. The Representative(s) does not recommend or endorse these organizations or their products or services in any way. We have not reviewed or approved the above referenced publications nor recommend or endorse them in any way.