Preparing For What You Can't Prepare For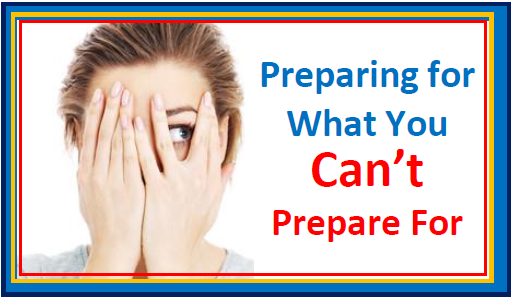 There's a fundamental dilemma at the core of our financial planning processes: it's our inability to prepare for unknown, random events that can undo everything. No matter how much we know, how many alternate outcomes we consider, or how much money we save, there is always something that could devastate our best-laid plans. From a planning perspective, how do you handle that?
"The Game Plan" is a recurring column in the Wall Street Journal. which relates the financial back stories and challenges of a real-life family, then asks selected financial professionals for advice. A March 28, 2016, entry offers an example of the disruption from an event that couldn't have been foreseen or avoided.
Three years ago, Stephen and Ida, a couple in their late thirties with four children, had a combined annual income of $270,000 and a comfortable home in the suburbs. With a partner, Stephen was about to launch a flooring and janitorial services business. Less than a year later, their world was turned upside down: "Their youngest son Mikey, then 7, was diagnosed with brain cancer."
For a parent, there is perhaps no greater trauma than the suffering of one of your children. You will do whatever is necessary to ease their pain and help them get better. This includes exhausting your financial resources.
Ida, a registered nurse, quit her job to take care of Mikey and his three siblings. Stephen neglected building his business to be with Mikey as he underwent two surgeries and a series of chemo treatments. In 2014, their family income dropped to $48,000. To keep the family afloat, Stephen and Ida used up their savings, and restructured their mortgage and home equity line to longer terms with lower payments. They relied on assistance from friends and charities.
Mikey is now home, and part of a promising clinical trial. Refocused on work, Stephen's business is growing, and he expects new contracts will bring his income back to $200,000/yr. After two traumatic years, the couple is trying to get back on their feet financially. But they have no savings, and minimal income insurance (a $250,000 life insurance policy and small disability policy, both on Stephen). So what should they do now?
The experts, a New York City husband-and-wife financial advisory team, offered fairly straightforward advice:
Up Stephen's life insurance to $2.5 million, more accurately reflecting his economic value for the family.
Maximize Stephen's disability insurance, to equal 60% to 70% of his after-tax income. The policy should also have an own-occupation provision, meaning he will receive benefits if he cannot perform the duties of his current occupation, instead of any occupation.
Add key-man insurance to the business arrangement. Stephen has a partner. If one partner dies unexpectedly, the coverage allows a surviving spouse to receive a cash payout, instead of inheriting the business and its attendant responsibilities.
Focus on saving for emergencies. The advisers recommend an amount equal to six months of living expenses (currently around $60,000, total for 6 months).
The advice isn't earth-shaking or innovative. Maximizing insurance and building an emergency reserve are what you do when you're at Square One financially. But looking beyond the recommendations, there are several valuable insights from Stephen and Ida's experiences.
They could not have prepared for this.
What parent puts "my son is diagnosed with cancer" on a list of things to plan for? And even if you did, what would be your preparation? Given all the other, more likely, financial challenges (like accumulating for retirement or helping your kids pay for a college education), would cancer insurance on your children be a priority? Probably not.
We like to believe that the right preparation can prevent bad events (if I don't smoke, I won't get cancer) and guarantee good ones (If I save 15 percent of my income, I will be able to retire at 65). But this isn't true. Random events really are random. And sometimes they are not avoidable.
There is a way to survive the unknown.
Health care, especially for complex cancer treatment protocols, is expensive. And the opportunity costs from using one's income, savings, and productivity to pay for this care can be
monumental. But despite the magnitude of these challenges, many households find ways to survive, and eventually thrive. If it is unsettling to recognize that an unknown event could upend your financial life, there is also comfort in knowing that many people regain their financial footing. And just as there are unknowns that can knock us down, there may be unknown sources of support. If you do a little digging on the Internet, you can see that a number of organizations sponsored benefit events to help Stephen and Ida pay some of Mikey's medical expenses. Unknowns can be challenging, but defeat is not inevitable.
The "fixes" recommended by the financial professionals probably should have been in place already.
The recommendation of a ten-fold increase in Stephen's life insurance isn't because his economic value increased that much since Mikey's cancer. Even before the diagnosis, he was underinsured. And, even at $2.5 million, some might say his income potential is still under-represented.
The proposed improvements to Stephen's disability insurance plan reflect a similar concern. The family may be more receptive to a better insurance plan because their precarious financial condition means they can't afford to lose Stephen's income, but is that really much different today than it was three years ago?
Waiting to insure one's income is never a good idea, especially since our insurability comes with an expiration date; at some point, diminishing health will disqualify us for life and/or disability insurance. Before or after Mikey's cancer, the family's financial fortunes were dependent on Stephen continuing as the primary income earner.
Maximize What You Can, When You Can
In light of Mikey's condition, it's interesting to note the financial pros' recommendations were primarily directed at strengthening the household's life insurance and disability program. There was no recommendation to establish a medical fund for possible cancer issues in the future. Mikey's condition, and the subsequent financial fallout, simply highlighted how important income protection is for the family's long-term financial well-being.
It can be discouraging to realize how fragile our financial security really is in the face of the unknown. And trying to adequately prepare for every unknown can be an emotional and financial drain, wasting time and resources. Further, being distracted by the unknowns may prevent us from doing a good job with the things we can manage. Addressing known financial risks is the only way to prepare for the events that can't be prepared for. But quite often, even high-income households under-insure their incomes and future financial value. Better to accept there are some things that can't be planned for, and pay attention to the ones that can.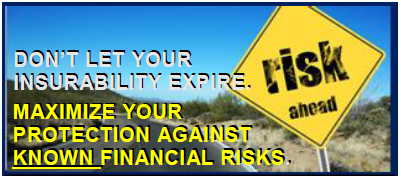 Registered Representative and Financial Advisor of Park Avenue Securities LLC (PAS). OSJ: 1767 Sentry Parkway West, Suite 200, Blue Bell, PA 19422, 267-468-0822. Securities products and advisory services offered through PAS, member FINRA, SIPC. Financial Representative of The Guardian Life Insurance Company of America® (Guardian), New York, NY. PAS is an indirect, wholly-owned subsidiary of Guardian. Comprehensive Wealth Strategies is not an affiliate or subsidiary of PAS or Guardian.2016-26075 Exp. 7/18
This newsletter is prepared by an independent third party for distribution by your Representative(s). Material discussed is meant for general illustration and/or informational purposes only and it is not to be construed as tax, legal or investment advice. Although the information has been gathered from sources believed reliable, please note that individual situations can vary, therefore the information should be relied upon when coordinated with individual professional advice. Links to other sites are for your convenience in locating related information and services. The Representative(s) does not maintain these other sites and has no control over the organizations that maintain the sites or the information, products or services these organizations provide. The Representative(s) expressly disclaims any responsibility for the content, the accuracy of the information or the quality of products or services provided by the organizations that maintain these sites. The Representative(s) does not recommend or endorse these organizations or their products or services in any way. We have not reviewed or approved the above referenced publications nor recommend or endorse them in any way.