Why You Want Others to Become World-Class Savers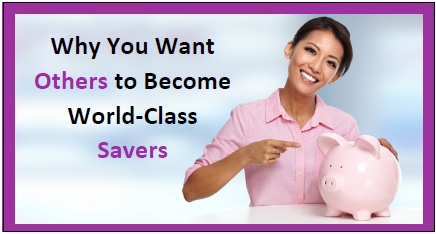 The Federal Reserve's Report on the Economic Well-Being of U.S. Households in 2015, released May 2016, included a summary comment that garnered quite a bit of media attention:
47 percent of adults say they either could not cover an emergency expense costing $400, or would cover it by selling something or borrowing money.
This is a sobering statistic. It says almost half of American households are living financially precarious lives, where a small misfortune can push them to the brink.
Perhaps even more startling: almost one in five households earning incomes greater than $100,000 said they would not be able to cover a $400 emergency expense, meaning it's not just "poor people" who are broke.
In a May 2016 Atlantic article titled "The Secret Shame of Middle-Class Americans," Neil Gabler, a screenwriter, author, and visiting professor, admits to being one of those high earners who would have trouble finding $400 to pay for an emergency:
"(Y)ou certainly wouldn't know it to talk to me, because the last thing I would ever do-until now-is admit to financial insecurity or, as I think of it, 'financial impotence,' because it has many of the characteristics of sexual impotence, not least of which is the desperate need to mask it and pretend everything is going swimmingly. In truth, it may be more embarrassing than sexual impotence."
In an April 23, 2016, NPR interview, Gabler added: "I am in a situation that tens of millions of Americans share. I'm not poor. We're talking about middle-class Americans, even upper-middle-class Americans, who live paycheck to paycheck."
And…why does this matter to me?
If you are reading this newsletter, there's a good chance your saving habits and accumulation achievements exceed those of the average American. You may not have as much money as you'd like, but you can comfortably handle a $400 emergency. So why care about a statistic that doesn't apply to you?
Here's why: You are in a daily financial competition with other households for scarce goods and services. And how well you do is in part connected to how well others are doing. This awareness spurs two seemingly paradoxical urges: to stifle competition or encourage it. To illustrate:
If more people can afford 50-inch flat-screen televisions, the demand for a limited number of TVs will either raise prices or result in shortages. In this instance, there seems to be a case for thinking you are better off if your neighbor can't afford a TV. Better you have money and he doesn't, right?
This is a zero-sum view of economics that in order for one person to take a step up, another must take a step down. In a zero-sum world, it is in your best interests to allow, even encourage, others to make poor financial decisions, because less for them means more for you. Except…
If more people can afford 50-inch flat-screen TVs, new manufacturers have an incentive to enter the TV market. The competition among manufacturers often results in better products and lower prices - for everyone. And in fact, this is what has happened: adjusted for inflation, large flat-screen TVs are cheaper today than five years ago.
In this classic free-market example, increased competition benefits everyone. Your neighbors' success is ultimately beneficial to you. In this view, you want more people to be able to afford a home like yours because the increased demand will increase your property values, and the chance you'll be able to sell at a later date. You want more people to operate profitable businesses because it means more job opportunities and potential customers in your community.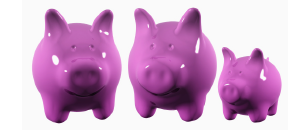 The belief that your neighbor's success is beneficial to you is one of the reasons economists and policymakers want to diminish the income inequality gap in the United States. When the economy's prosperity is concentrated in too few hands, even the wealthy experience negative social and financial consequences.
Unfortunately, most of income inequality "solutions" from the government are legislative, a mix of tax incentives and penalties to "nudge" people toward better choices or redistribute income. And the financial impotence that Gabler talks about can't be solved by law. These are households with incomes, cars, homes, debt. They have resources, but they are mismanaged. They need education and guidance, primarily in the area of cash flow management. And since they haven't been able to do it on their own, they probably need individualized attention and professional assistance.
"There's a fundamental flaw with lots of financial advice:
it assumes you have money." - Eric Ravenscraft
There is perhaps the idea that consulting with a financial professional is something you do after you've established a positive cash flow and can start saving. But if you ask most insurance agents, registered representatives, investment advisors, even accountants, they will tell you one of their primary functions is helping their clients "find the money," i.e., to come up with ways to rearrange or restructure a budget to make saving possible.
Cash flow management is an essential service that underlies the other products and advice these professionals provide.
Getting back to the question of minimizing competition or encouraging it: There may be zero-sum scenarios, such as real estate (recall the classic line "they're not making any more land"), where your having something means someone else doesn't. But improving the cash flow management of others is not a zero-sum economic event for you. When more households become world-class savers, the positive effects ripple through the economy.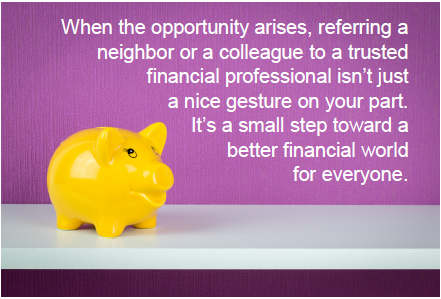 Registered Representative and Financial Advisor of Park Avenue Securities LLC (PAS). OSJ: 1767 Sentry Parkway West, Suite 200, Blue Bell, PA 19422, 267-468-0822. Securities products and advisory services offered through PAS, member FINRA, SIPC. Financial Representative of The Guardian Life Insurance Company of America® (Guardian), New York, NY. PAS is an indirect, wholly-owned subsidiary of Guardian. Comprehensive Wealth Strategies is not an affiliate or subsidiary of PAS or Guardian.2016-25081 Exp. 6/18
This newsletter is prepared by an independent third party for distribution by your Representative(s). Material discussed is meant for general illustration and/or informational purposes only and it is not to be construed as tax, legal or investment advice. Although the information has been gathered from sources believed reliable, please note that individual situations can vary, therefore the information should be relied upon when coordinated with individual professional advice. Links to other sites are for your convenience in locating related information and services. The Representative(s) does not maintain these other sites and has no control over the organizations that maintain the sites or the information, products or services these organizations provide. The Representative(s) expressly disclaims any responsibility for the content, the accuracy of the information or the quality of products or services provided by the organizations that maintain these sites. The Representative(s) does not recommend or endorse these organizations or their products or services in any way. We have not reviewed or approved the above referenced publications nor recommend or endorse them in any way.