Cars, Weddings, and Other $30,000 Projects
A "financial project" is an item whose cost is large enough that advance planning is required to pay for it. The baseline for what qualifies as a financial project is subjective. But if you have to save, borrow, liquidate assets, or in some other way plan to pay for it, that's a financial project.
For most Americans, their biggest financial project, both in duration and dollars, is funding their retirement. But prior to retirement, many Americans will also encounter other smaller, shorter term financial projects that also need funding. And the choices they make to address these smaller projects can significantly impact the outcome of their biggest one.
Consider two common "mid-size" financial projects: the purchase of a new car and paying for a wedding. Each has a price tag of around $30,000, and a range of funding options.
A New Car
According to an April 1, 2016, Kelley Blue Book update, the average price of a new car in March 2016 was $33,666. (The average purchase price of pickups is around $45,000, representing the greatest percentage of new-car sales.) And cars wear out; they aren't one-time financial projects. Studies indicate most American households will own between 6 and 8 cars in their lifetime.
How do most new car buyers pay for their transaction? In April 2015, Experian Automotive reported that approximately 15% of new car buyers paid cash. The rest opted to borrow, for increasingly longer periods. The above-mentioned Kelley press release found an increase in 72- and 84-month loans, with the average for all loans at 67 months.
A Wedding
The Wedding Report's annual survey found the average wedding in 2015 cost $26,601, not including the cost of the honeymoon. Wedding costs varied by geographic regions of the US, with the highest averages in the Northeast ($32,952) and West ($29,425), and the lowest in the Midwest ($24,614). When calculating averages, ultra-high-cost weddings can skew the numbers, but the Wedding Report found 16 % of all weddings were in excess of $30,000.
As a one-day event, weddings don't have monthly financing options comparable to automobiles. Besides the higher-interest options of credit cards or unsecured personal loans, the merits of using home equity versus retirement savings are the options that generate a lot of discussion. A 2014 TIAA-CREF report found that 15% of 401(k) loans were used for weddings and vacations.
The Impact of a $30,000 Project on Retirement
When money is diverted from your retirement (either as lump sum or reduced contributions) to pay for some other financial project, the cost isn't just $30,000. There are lost opportunity costs in the liquidation of long-term assets; what's spent today is not only gone, but so are the future earnings. There's also a diversion of future savings to debt service, which for many households means a decrease in monthly saving. (Example: If previous savings allocations were $500/mo., the new allocation is $350 to saving, $150 to loan repayments. The TIAA-CREF survey said more than half of 401(k) borrowers decrease their future retirement contributions to repay their loans.) If a 401(k) is the source of borrowed funds, repayments are made withafter-tax dollars - which will be taxed again when you take withdrawals at retirement.
If you're 50 when your daughter gets married, and you pay the $30,000 tab by liquidating an investment, there's likely 20 years of retirement opportunity cost attached to that decision. Compounded at a hypothetical 5% for 20 years, that's almost $80,000; at 8%, the number is $140,000.
The financial consequences of purchasing a new car are harder to calculate. Transportation expenses are part of a household's cost of living, whether buying or leasing, and so are the ancillary expenses of insurance and maintenance. So you really can't say that a monthly car payment is money that isn't going to retirement. But you can consider the long-term impact of financing. A $30,000 auto loan at 5% interest amortized over 6 years (72 payments), results in a monthly payment of $483, which includes $4,776 in interest. At 5%, the opportunity cost on the interest is $5,854 after six years. If you financed the car at 35, by age 70 the calculated opportunity cost on the interest from that one loan is $24,000. Opportunity costs for successive loans will be less because the time to retirement is shorter, but even with conservative opportunity cost assumptions, the cumulative effect of six to eight auto loans over a lifetime could easily exceed $100,000.
Throw in another $30,000 project during your working lifetime (like a small home improvement), and it's plausible that three mid-size projects have the potential to reduce your retirement accumulation by $300,000. That's no small number.
Obviously, the preferred approach to these mid-size financial projects is to save for them. For some, this means their saving focus has to expand beyond retirement (the big project). While some financial commentary has a "don't sweat the small stuff" approach - i.e., "just maximize allocations to your biggest financial project, and all of the others will somehow work out" - other projects, like cars and weddings, are not only likely, but costly. When the only project people intentionally save for is retirement, other intermediate projects will inevitably disrupt the big one.
Along with saving strategies and financial products, many financial professionals have programs to help assess the "true costs" of your mid-size financial products. When reviewing the status of your bigger financial projects, it might be worthwhile to include a cost analysis of your mid-size ones as well.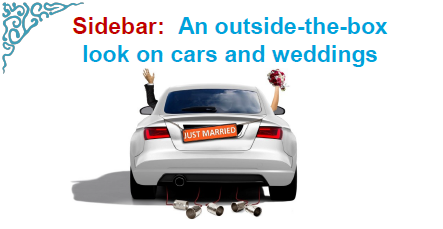 Here's a sure-fire way to reduce or eliminate cars and weddings as financial projects: Don't pay for them. Or at the very least, don't pay $30,000 for them. Not to downplay their value, but some cutting-edge perspectives on both cars and weddings could be reasons to re-think their price-value equation.
You Should Rent an Autonomous Car
In the near future, new technologies may radically change the financial model for personal transportation. In 2013, the National Highway Traffic Safety Administration (NHTSA) defined five different levels of autonomous driving. Level 4 is "fully autonomous," which means vehicles can "perform all safety-critical driving functions and monitor roadway conditions for an entire trip." Some auto manufacturers believe they will have Level 4 vehicles available to the public by 2018.
In the December 2015 issue of The Future of Everything, Dan Neil opines that within a generation, self-driving cars "will not so much change the game as burn down the casino" when it comes to car ownership. Here's why:
"Autonomy will make it possible for unmanned automobiles to be summoned, via app, to your location...for as little or as long as you need. When you're done - poof! - it will go away. You don't pay for the car. You pay for the miles. And only the miles."
Why would this eliminate car ownership? Because owning a car is financially inefficient. The utilization rate for automobiles in the U.S. is about 5% - for the other 95% of the time (23 hours), our cars sit dormant in a driveway, garage, or parking lot. Sharing autonomous vehicles will raise utilization and dramatically lower costs. "Twenty-five years from now," Neil says, "the only people still owning cars will be hobbyists, hot-rodders and flat-earth dissenters. Everyone else will be happy to share."
You Should Spend Less, and Add Guests
For weddings, it appears less is more, at least in terms of long-term happiness for the bride and groom. In a 2014 study, "'A Diamond is Forever' and Other Fairy Tales," two Emory University professors provided statistical evidence suggesting expensive weddings may actually be a detriment to marital bliss. Andrew Francis-Tan and Hugo Mialon found that "marriage duration is inversely associated with spending on the engagement ring and wedding ceremony," and that there is "little evidence to support the validity of the wedding industry's message connecting expensive weddings with positive marital outcomes."
Three of the factoids supporting these conclusions are sort of mind-bending:
- Spending $1,000 or less on the wedding is significantly associated with a decrease in the hazard of divorce.
- Women whose weddings had cost more than $20,000 (in 2014 dollars) ended up getting divorced 60% more often than those whose weddings were cheaper.
- The types of weddings associated with lower likelihood of divorce are those that are relatively inexpensive but high in attendance.
Interesting ideas, right? But even if you end up just paying for miles, and don't have a big wedding, there are going to be other financial projects in your life.
Now or in the future, saving should be for more than just retirement.
Registered Representative and Financial Advisor of Park Avenue Securities LLC (PAS). OSJ: 1767 Sentry Parkway West, Suite 200, Blue Bell, PA 19422, 267-468-0822. Securities products and advisory services offered through PAS, member FINRA, SIPC. Financial Representative of The Guardian Life Insurance Company of America® (Guardian), New York, NY. PAS is an indirect, wholly-owned subsidiary of Guardian. Comprehensive Wealth Strategies is not an affiliate or subsidiary of PAS or Guardian.2016-25081 Exp. 6/18
This newsletter is prepared by an independent third party for distribution by your Representative(s). Material discussed is meant for general illustration and/or informational purposes only and it is not to be construed as tax, legal or investment advice. Although the information has been gathered from sources believed reliable, please note that individual situations can vary, therefore the information should be relied upon when coordinated with individual professional advice. Links to other sites are for your convenience in locating related information and services. The Representative(s) does not maintain these other sites and has no control over the organizations that maintain the sites or the information, products or services these organizations provide. The Representative(s) expressly disclaims any responsibility for the content, the accuracy of the information or the quality of products or services provided by the organizations that maintain these sites. The Representative(s) does not recommend or endorse these organizations or their products or services in any way. We have not reviewed or approved the above referenced publications nor recommend or endorse them in any way.