The Invictus Illusion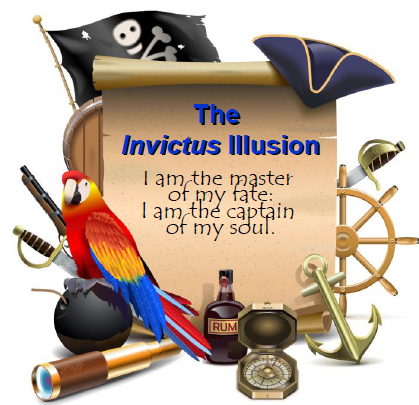 The shift from employer-funded pensions to personally-managed retirement accounts like 401(k)s promised opportunities for individuals to produce returns greater than those guaranteed by a company-managed pension fund. It perhaps neglected to consider the lifelong management responsibilities that come with personal control - not only when accumulating, but when spending. A looming dilemma for many retirees is whether they will be able to manage their wealth as they age.
The harsh reality is that even if retirees heed practical advice (choose your caregivers wisely, make sure your children get along) and are diligent to follow through on details (updating beneficiaries, appointing representatives), diminished mental capacity is a wild card that can trump the best-laid plans. Yet precisely because they have assumed responsibility for funding and managing their retirement during their working years, retirees sometimes resist the possibility that they may not be able to maintain control to the end of their lives. Call it the "Invictus Illusion" (…or Delusion).
Believing You are Unconquerable Doesn't Make it So
Invictus, meaning "unconquerable" or "undefeated" in Latin, is a poem by William Ernest Henley. The first stanza ends with this memorable couplet:
I am the master of my fate,
I am the captain of my soul.
Invictus was written in 1875 while Henley was hospitalized for tuberculosis of the bone. As the disease spread to his foot, physicians decided that in order to save Henley's life, they had to amputate his leg below the knee. Henley survived, but used a crutch the rest of his life. (A bit of trivia: A large, powerfully built man, Henley was a prominent figure in the English literary community, and served as the inspiration for the character Long John Silver in Robert Louis Stevenson's classic Treasure Island.)
The last lines of Henley's poem resonate with our heroic aspirations. When one has an unconquerable will, the facts

don't matter. As one modern critic puts it, "Invictus is a poetic middle finger to the cosmos."
Unfortunately, there are a few things Invictus doesn't consider. We are only the masters of our fates and captains of our souls as long as we can convince others we aren't incompetent. Once someone decides we've lost touch with reality, all it takes is a court-appointed guardian to revoke our captaincy and put our fate in someone else's hands. As an example, consider Sumner Redstone.
Sumner Redstone is 93 years old. As chairman emeritus and controlling shareholder of communication industry giants CBS and Viacom, he is extremely wealthy. In his business life, Redstone has been characterized as both brilliant and ruthless in getting what he wants. He has personified the Invictus ideal, often dismissing questions of who will succeed him in his businesses by stating he intends to live forever.
Alas, Mr. Redstone's failing health and declining mental acuity has prompted a series of high-profile lawsuits, filed by his children and a former mistress, on the issue of whether Mr. Redstone is still capable of managing his assets or taking care of himself.
Per a May 13, 2016, New Yorker piece, when Mr. Redstone dies or is deemed incapacitated, his voting stake is transferred to a seven-member trust, and his daughter will assume his seat on the board. One way or another, investors are eager for this transition to occur, because Redstone's uncertain leadership status has been seen as partly responsible for the 40-percent decline in the company's stock value. At this point, Mr. Redstone is hardly the captain of his fate.
Greater Responsibility = More Legal Challenges?
Mr. Redstone's circumstances are not a unique consequence of his wealth. Rather, they are the result of two factors: declining mental capacity, and financial assets in which others - family, friends, and business partners - believe they have a vested interest. Indirectly, the decision to invest individuals with greater financial responsibility for their retirement has significantly multiplied the likelihood of legal battles over family assets.
Anthony Webb, a senior research economist at the Center for Retirement Research at Boston College, elaborates:
"These days we have 401(k) plans and lots and lots of choices that never confronted our parents…If you are really smart and you are in your 50s, this is something that you can handle, though the evidence is that a lot of people have difficulty even then. The problem for the future is, what do we do if we have a whole load of 80-year-olds who have Alzheimer's and have $1 million in their retirement plans? It's a recipe for disaster."
Some observers long for the "good old days" of retirement. As Kelley Holland of cnbc.com put it in a February 19, 2015, article: "The decline in financial decision-making ability wouldn't be quite so bad if people were retiring with defined benefit pensions."
Annuitization: A Pre-Emptive Strike?
Ms. Holland's response isn't just a nostalgic longing for the past. Increasingly, financial experts acknowledge that including a pension - i.e., a stream of payments guaranteed for life - in a retirement plan can alleviate some of the concerns about declining mental ability in one's later years.
This strategy requires reallocating some of one's assets to buy an annuity from an insurance company. Instead of a cash asset, the retiree now owns a stream of payments, which may be received immediately, or scheduled for distribution at a later date. Once payments begin, the retiree has no management decisions, and the annuity isn't an asset that can be liquidated and transferred.
Shlomo Benartzi, a behavioral-finance expert from UCLA says an annuity solves two critical issues for retirees. In an article published in the fall 2011 Journal of Economic Perspectives, Benartzi says the irrevocable decision to annuitize removes complex investing decisions from the retirement equation, simplifying management responsibilities. This is not only a present benefit, but offers future peace of mind, because Benartzi says studies show that guaranteed incomes boost retirement happiness.
Using an annuity to ensure a lifetime income can be a pre-emptive action to mitigate against a possible mental decline. It not only relieves you of management and control concerns, but does so for others. An annuity is one asset where you won't have to ask family or friends to make financial decisions on your behalf.
Of course, for those who are used to being in charge of their money, the idea of giving up control of a portion of one's assets today so that something will be there tomorrow in the event of a mental decline is challenging. Benartzi acknowledges "that some retirees especially sensitive to losing money, view giving up money in exchange for guarantees as a loss." This is what the Invictus illusion looks like in retirement: a belief that no matter what, you will remain an effective manager of your finances as you age.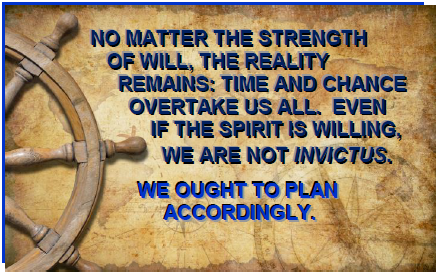 Registered Representative and Financial Advisor of Park Avenue Securities LLC (PAS). OSJ: 1767 Sentry Parkway West, Suite 200, Blue Bell, PA 19422, 267-468-0822. Securities products and advisory services offered through PAS, member FINRA, SIPC. Financial Representative of The Guardian Life Insurance Company of America® (Guardian), New York, NY. PAS is an indirect, wholly-owned subsidiary of Guardian. Comprehensive Wealth Strategies is not an affiliate or subsidiary of PAS or Guardian.2016-23744 Exp. 5/18
This newsletter is prepared by an independent third party for distribution by your Representative(s). Material discussed is meant for general illustration and/or informational purposes only and it is not to be construed as tax, legal or investment advice. Although the information has been gathered from sources believed reliable, please note that individual situations can vary, therefore the information should be relied upon when coordinated with individual professional advice. Links to other sites are for your convenience in locating related information and services. The Representative(s) does not maintain these other sites and has no control over the organizations that maintain the sites or the information, products or services these organizations provide. The Representative(s) expressly disclaims any responsibility for the content, the accuracy of the information or the quality of products or services provided by the organizations that maintain these sites. The Representative(s) does not recommend or endorse these organizations or their products or services in any way. We have not reviewed or approved the above referenced publications nor recommend or endorse them in any way.